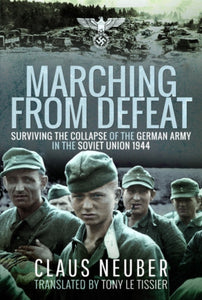 New Hardback
In June 1944, in Belarus on the Eastern Front, the Red Army launched Operation Bagration, the massive offensive that crushed Hitler's Army Group Centre. German soldiers who weren't encircled and captured had to fight their way back towards their own lines across hundreds of miles of enemy territory. This is the story of one of them, Claus Neuber, a young artillery officer who describes in graphic detail his experiences during that great retreat.

His gripping account carries the reader through the desperate defensive battles and rearguard actions fought to stem the relentless Soviet advance and to breakout from the cauldrons between Minsk and the Beresina river. After almost seventy days as a fugitive, living in the open, depending on the kindness of villagers, enduring extremes of cold, wet and hunger, and living each day with the ever-present threat of betrayal and imprisonment, he found his way back to the German lines. This unforgettable personal narrative, translated for the first time from the original German, gives a dramatic insight into the impact of the Soviet offensive and the disintegration of an entire German army.

It is also compelling reading because it records in day-to-day detail what such a bitter defeat was like and shows how individual soldiers somehow survived through their bravery, ingenuity and endurance - and the companionship of a few loyal comrades.