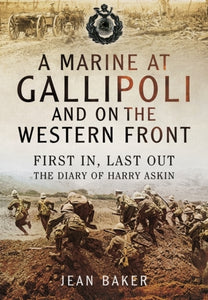 New Hardback
Harry Askin was 22 when he enlisted at Nottingham in September 1914 and was sent to train with the Royal Marines at Portsmouth. He set sail with the Mediterranean Expeditionary Force in late February 1915. On 25 April he was towed ashore to Gallipoli.

So began a nine month ordeal of constant fighting and shelling on that bare and desperate Peninsula. In this diary he captures the atmosphere of danger and death, blazing heat in summer and rain and cold at other times. The smell of dead bodies was everywhere and while the fortitude of the troops was astonishing, at times confusion and panic prevailed.

Harry was wounded twice in one day but the surgeon removed the bullet and he returned to the firing line. Harry was among the last to withdraw and his reward was to be sent to the Western Front. Again he was wounded.

This is a stirring memoir which paints a vivid picture of the horrors of war.