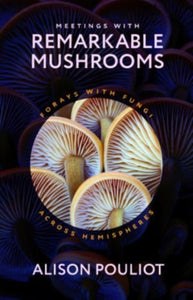 New Hardback
A whirlwind journey through fungus frontiers that underscores how appreciating fungi is key to understanding our planet's power and fragility. What can we learn from the lives of fungi? Splitting time between the northern and southern hemispheres, ecologist Alison Pouliot ensures that she experiences two autumns per year in the pursuit of fungi-from Australia's deserts to Iceland's glaciers to America's Cascade Mountains. In Meetings with Remarkable Mushrooms, we journey alongside Pouliot, magnifiers in hand, as she travels the world.

With Pouliot as our guide, we smell fire-loving truffles that transform their scent after burning to lure mammals who eat them and, ultimately, spread their spores. We spot the eerie glow of the ghost fungus, a deceptive entity that looks like an edible oyster mushroom but will soon heave back out-along with everything else in your stomach-if you take a bite. And we crawl alongside vegetable caterpillars, which are neither vegetable nor caterpillar but a fungus that devours insects from the inside out.

Featuring stunning color photographs of these mycological miracles, Meetings with Remarkable Mushrooms shows that understanding fungi is fundamental for harmonizing with the natural world.