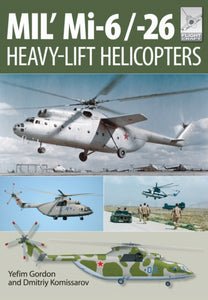 New Paperback
Developed in the early 1950s to meet a Soviet Army requirement and first flown in June 1957, the Mi-6 was the largest-yet helicopter created in the Soviet Union. Its notable features included a power-plant consisting of two turbo-shaft engines (for the first time on a Soviet helicopter) and stub wings offloading the main rotor in forward flight; the cabin was big enough to accommodate artillery systems and tactical ballistic missiles. Built by two plants, the Mi-6 saw service with the Soviet Air Force (including participation in the Afghan War) and the air arms of several Soviet allies.

It also proved valuable as a civil air-lifter during oilfield exploration in Siberia, remaining in service right the way up to 2002. A worthy successor to the Mi-6 appeared in 1977 - the Mi-26. With its 20-ton payload, it was (and still is) the world's largest and most capable transport helicopter.

Again, the Mi-26 had both military and commercial uses (the former included participation in several armed conflicts); the type is still in production, being updated to meet modern requirements, and has been exported to several countries in Asia and Latin America.The book describes the history, variants and service career of the Mil' 'big lifters' and contains a detailed overview of the scale model kits covering these types which are currently available on the market.