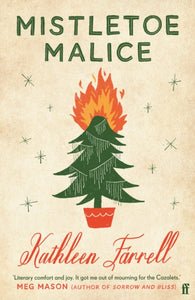 New Hardback
A dysfunctional family reunites for the Christmas holiday from hell in this rediscovered festive classic with fangs for fans of Barbara Pym, Elizabeth Taylor and Stella Gibbons. 'Literary comfort and joy. It got me out of mourning for the Cazelet Chronicles.' Meg Mason (author of Sorrow and Bliss)'A stylish and penetrating comedy of manners.

My favourite Christmas book by far - and you can read it all year round.' Rachel Joyce (author of The Unlikely Pilgrimage of Harold Fry)'A horribly delicious snapshot of post-war family life, in which tensions ensnare the reader in tinsel-covered barbed wire.' Janice Hallett (author of The Appeal) The fire is on, sherry poured, presents wrapped, and claws are being sharpened. In a seaside cottage perched on a cliff, one family reunites for Christmas. While snow falls, a tyrannical widowed matriarch presides over her unruly brood.

Her niece tends to her whims, but fantasises about eloping; and as more guests arrive, each bringing their secret truths and dreams, the Christmas tree explodes, a brawl erupts, an escape occurs - and their 'midwinter madness' climaxes ...