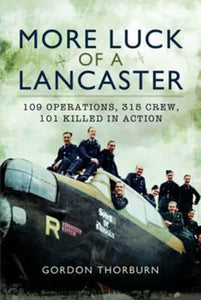 New Hardback
From 11 June 1943 (the date of Lancaster Mark III EE136 WS/R's first op) to her last with 9 Squadron (on 19 October 1944), eighty-six Lancasters were assigned to Number 9\. Of these, fifty were lost to enemy action, another five crashed at home, three crashed in Russia on the first Tirpitz raid and four were transferred to other squadrons only to be lost by them, leaving just twenty-four still flying. As more came in, three of those twenty-four were transferred to a new squadron, the reforming No 189\.

These were EE136 (93 operations), PB146 (36 ops), and LM745 (four ops). All three saw the war out, unlike so many others. During 189 Squadron's operational period featuring EE136 (1 November 1944 to 3 February 1945) thirty-four Lancasters came on the strength of which nine were lost in that time.

Over the operational lifetime of Lancaster EE136, forty-two different skippers took her on her grand total of 109 trips. Altogether, 315 men flew on ops in this machine, many of them more than once - the most 'capped' captain, F/O Roy Lake, twenty-two times - and of those men, 101 were killed in other aircraft. Those are the statistics.

But this is the story of the men behind the numbers.