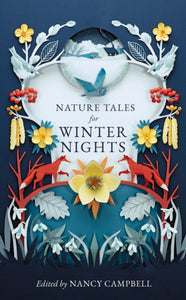 New Hardback
From the author of Fifty Words for Snow comes a treasure trove of nature tales from storytellers across the globe, bringing a little magic and wonder to every winter night. As the evenings draw in - a time of reckoning, rest and restoration - immerse yourself in this new seasonal anthology. Nature Tales for Winter Nights puts winter - rural, wild and urban - under the microscope and reveals its wonder.

From the late days of autumn, through deepest cold, and towards the bright hope of spring, here is a collection of familiar names and dazzling new discoveries. Join the naturalist Linnaeus travelling on horseback in Lapland, witness frost fairs on the Thames and witch-hazel harvesting in Connecticut, experience Alpine adventure, polar bird myths and courtship in the snow in classical Japan and ancient Rome. Observations from Beth Chatto's garden and Tove Jansson's childhood join company with artists' private letters, lines from Anne Frank's diary and fireside stories told by indigenous voices.

A hibernation companion, this book will transport you across time and country this winter.