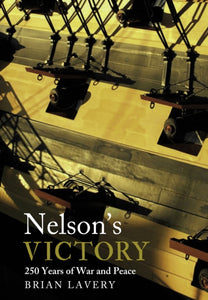 New Hardback
May 2015 sees the 250th anniversary of the launch of HMS Victory, the ship that is so closely associated with Nelson and his great victory at Trafalgar and which, still extant, has today become the embodiment of the great Age of Sail. Many books have been written about Victory but none like this, which tells the full story of the ship since she first took to the waters in May 1765. It contains many surprises - that she was almost wrecked on her launch; that diplomacy conducted onboard her played a crucial role in provoking Napoleon's invasion of Russia in 1812; and that in 1914 Kaiser Wilhelm set the First World War in motion at a desk made from her timbers.

The book also tells the story of Horatio Nelson, who was born a few weeks before his most famous ship was ordered, and whose career paralleled hers in many ways. It does not ignore the battle of Trafalgar, and indeed it offers new insights into the campaign which led up to it.But it says much more about the other lives of the ship, which at different times was a flagship, a fighting ship, a prison hospital ship, a training ship for officers and boys, a floating courtroom, a signal school in the early days of radio, tourist attraction and national icon. It looks at her through many eyes, including Queen Victoria, admirals, midshipmen and ordinary seamen, and Beatrix Potter who visited as a girl.

It is simply a 'must-have' work for historians and enthusiasts, and a compelling new narrative for the general reader.