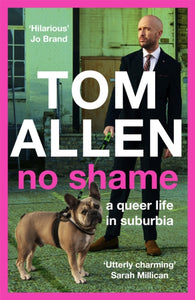 New Paperback
When I was 16 I dressed in Victorian clothing in a bid to distract people from the fact that I was gay.

It was a flawed plan.
No Shame is a very funny, candid and emotional ride of a memoir by one of our most beloved comedians. The working-class son of a coach driver, and the youngest member of the Noel Coward Society, Tom Allen grew up in 90s suburbia as the eternal outsider. In these hilarious, honest and heart breaking stories Tom recalls observations on childhood, his adolescence, the family he still lives with, and his attempts to come out and negotiate the gay dating scene.

They are written with his trademark caustic wit and warmth, and will entertain, surprise and move you in equal measure.