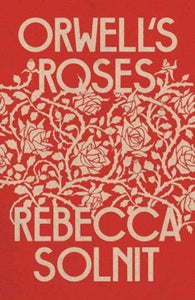 New Hardback with signed bookplate.
George Orwell In 1936 Orwell planted roses at his cottage in Hertfordshire. Over eighty years later Rebecca Solnit encounters them, and is inspired to explore a different side to the great writer and activist to the one we know so well.

Following his journey from the coal mines of England to taking up arms in the Spanish Civil War, and his explosive critiques of Stalin and authoritarianism, here Solnit finds a more hopeful Orwell. And in her dialogue with the author and his fascination with nature, she makes unexpected connections with the colonial legacy of the flower garden, discovers photographer Tina Modotti's extraordinary roses, and reveals Stalin's strange obsession with growing lemons in impossibly cold conditions. A fresh reading of a towering figure of the 20th century, Orwell's Roses finds solace and solutions for the political and environmental challenges we face today, and is a remarkable reflection on pleasure, beauty, and joy as acts of resistance.