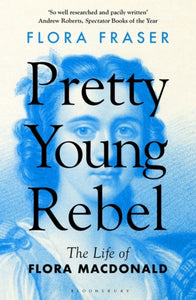 New Paperback
The year is 1746. The Jacobite rebellion has failed catastrophically and Scotland is reeling in the devastating aftermath of the battle of Culloden. Far to the west, on an island in the Outer Hebrides, twenty-four-year-old Flora Macdonald is woken in the dead of night by a messenger with urgent intelligence.

Bonnie Prince Charlie is outside, begging for her help. With Flora's assistance, the Stuart prince is disguised as an Irish maid and smuggled to the Isle of Skye, evading government troops. Flora's bravery and determination will see her immortalised in ballads and proclaimed a Scottish heroine.

But her efforts also result in her capture and detention in London. Released the following year and returning to Skye, Flora goes on to marry and emigrate to North Carolina, only then to be caught up in the American Revolutionary War. In Pretty Young Rebel, award-winning biographer Flora Fraser tells the remarkable story of Flora Macdonald.

It is a tale of adventure and daring, wit and charm, struggle and survival, and of a woman who showed extraordinary courage in the face of great danger.