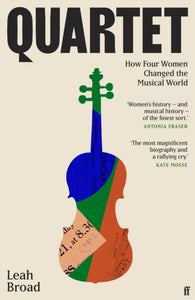 New Hardback
Ethel Smyth (b.1858): Famed for her operas, this trailblazing queer Victorian composer was a larger-than-life socialite, intrepid traveller and committed Suffragette.

Rebecca Clarke (b.1886): This talented violist and Pre-Raphaelite beauty was one of the first women ever hired by a professional orchestra, later celebrated for her modernist experimentation.
Dorothy Howell (b.1898): A prodigy who shot to fame at the 1919 Proms, her reputation as the 'English Strauss' never dented her modesty; on retirement, she tended Elgar's grave alone.
Doreen Carwithen (b.1922): One of Britain's first woman film composers who scored Elizabeth II's coronation film, her success hid a 20-year affair with her married composition tutor.

In their time, these women were celebrities. They composed some of the century's most popular music and pioneered creative careers; but today, they are ghostly presences, surviving only as muses and footnotes to male contemporaries like Elgar, Vaughan Williams and Britten - until now. Leah Broad's magnificent group biography resurrects these forgotten voices, recounting lives of rebellion, heartbreak and ambition, and celebrating their musical masterpieces.

Lighting up a panoramic sweep of British history over two World Wars, Quartet revolutionises the canon forever.