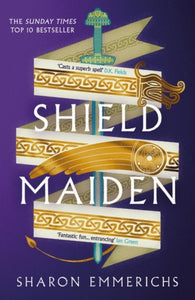 New Paperback
Having grown up hearing tales of her uncle, the great King Beowulf, Fryda's one desire is to become a shield maiden in her own right.

Yet a terrible childhood accident has left Fryda disabled - thus, she believes, thwarting her dream of becoming a warrior-woman for good. But still, somehow, she feels an uncontrollable power begin to rise within herself. Meanwhile, a great celebration of Beowulf's reign is underway, and Fryda's house is soon overrun with foreign kings and chieftains.

Amidst the drunken revelry, a discovery is made that threatens the safety of Fryda's entire clan - and her own life. Enraged, Fryda resolves to fight for her people, no matter the cost... and all the while, her powers seem only to grow stronger.

But she is not the only one to feel its effects. For, buried deep in her gilded lair, a dragon is drawn to Fryda's untamed power, and is slowly awakening from a long, cursed sleep...