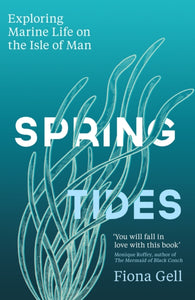 New Paperback 
'This is my earliest memory. I am three years old and I sit in the bottom of my great-uncle's pot boat and take off the bands from the lobsters' claws. The deepest of blues, they creak over the bilges with robotic limbs towards my father's bare feet as he rows.

Over the scent of the herring bait I can smell the fresh, sweet smell of wrack on the shore. This book has come out of over twenty years of studying the sea and trying to protect it, and a lifetime of loving our other world beneath waves. 'In Spring Tides, marine biologist Fiona Gell tells the story of a pioneering project to create the very first marine nature reserve on the Isle of Man. Growing up in a traditional fishing family on the island, Fiona spent her time on her grandfather's boat, listening to stories from the local fishermen and combing the beach for mermaid's purses and whelks' eggs.

She developed a lifelong love of the sea and Manx culture, and on her return to the island after twelve years away studying marine life, she led a three-year-long struggle to protect an area called Ramsey Bay and the precious emerald green eelgrass forests which grew there. With scientific insight and spellbinding prose she perfectly captures the wonder of island life, from the intricate beauty of bright pink maerl, to the enormity of giant basking sharks spotted off the cliffs of the bay. This beautiful story from a small island reveals the transformative power of the sea, and the importance of protecting it for future generations.