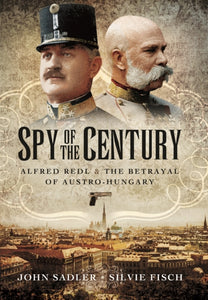 New Hardback
'The Redl Affair had everything: sex, espionage, betrayal, a fall from greatness and a sensational climax in which Redl went to his death like a figure of high tragedy.' The New York Times 'A story like that is truer than history.' Istvan Szabo 'The army was shocked to the core. All knew that in case of war this one man might have been the cause of the death of hundreds of thousands, and of the monarchy being brought to the brink of the abyss; it was only then that we Austrians realised how breathtakingly near to the World War we already had been for that past year.' Stefan Zweig, The World of Yesterday During the night of 24 to 25 May 1913 three high-ranking military officials wait for hours outside a hotel in the centre of Vienna. At around 2am they hear the shot of a Browning.

They know that one of their own has just ended his life: Colonel Alfred Redl, the former deputy head of the Evidenzburo, the Austro-Hungarian General Staff's directorate of military intelligence, and confidant of the heir to the throne. His suicide note reads: 'Levity and passion have destroyed me'. What no one had known: for almost a decade he had betrayed significant and damaging secrets to the Italians, the French and the Russians. But what had been his motives? Redl owed everything to the army he deceived.

Was he trapped into treason by blackmail? There were no definite answers for almost 100 years. The true story has only recently been reconstructed, after Austrian historians rediscovered long-lost records. A tragic story emerges - of a man who was forced to hide his homosexuality and used his wealth to please his young lover.

The scandal was huge, and it has never completely died down. Myths and legends have spread, and Redl's story still fascinates today.