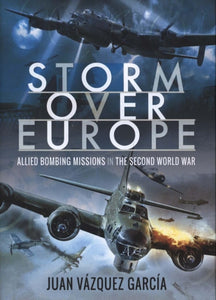 New Hardback
Following the Battle of France in 1940, British Bomber Command launched its response to the then-almighty Wehrmacht. Sadly, its beginnings were not at all promising: its resources were limited and the twin-engined aircraft in service had a very limited load capacity, as well as being vulnerable to the Luftwaffe. The progressive entry into service of the great four-engined planes would change the situation, but the great problem of night time raids, such as correctly identifying targets and a precise launching of the bombs, would never be adequately resolved.

Bomber Command's highly controversial bombing tactics, under the firm hand of Arthur 'Bomber' Harris, continued to develop until the very end of the war, creating a weapon of devastation and terror. Meanwhile, in 1942 the Eighth American Air Force began a campaign of day time bombing raids on targets in continental Europe that would last until the end of the war. Flying in increasingly larger formations, initially without any fighter escort, the B-17 flying fortresses and the big B-24 Liberators were up against the aggressive German aircraft, who were forced to develop adequate tactics in order to deal with the enormous defensive firepower of the American planes.

It would not be until the entry into service of the long-range escort fighters, especially the formidable P-51 Mustang, that the Luftwaffe finally found itself at a distinct disadvantage. Unlike the devastating and bloody night time campaign launched by Bomber Command, the American bombers were determined to demonstrate that precision bombing was possible on selected, strategic targets, which would stifle the economy and the German war effort, as well as minimizing civilian casualties.