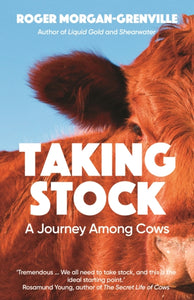 New Paperback
Since highland cattle ransacked his grandmother's vegetable patch when he was six, Roger Morgan-Grenville has been fascinated by cows. So at the age of 61, with no farming experience, he signed on as a part- time labourer on a beef cattle farm to tell their side of the story. The result is this lyrical and evocative book.

For 10,000 years, cow and human lives have been intertwined. Cattle have existed alongside us, fed and shod us, quenched our thirst, and provided a thousand other tiny services, and yet most of us know little about them. We are also blissfully unaware of the de-natured lives we often ask them to lead.

Part history, part adventure and part unsentimental manifesto for how we should treat cows in the 21st century, Taking Stock asks us to think carefully about what we eat, and to let nature back into food production.