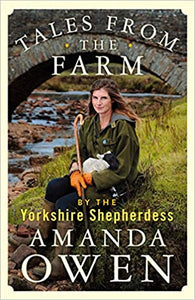 New Hardback
For everyone who loves watching Amanda Owen and her family on Our Yorkshire Farm, or enjoys reading her bestselling books, comes this delightful and uplifting collection of her monthly Dalesman columns. In Tales From the Farm by the Yorkshire Shepherdess Amanda takes readers on an evocative journey to Ravenseat, where she lives with husband Clive and their nine children, not to mention their flock of sheep, herd of cows, hardworking dogs and a formidable chicken called Linda. Covering events from 2019 through to early 2021, Amanda describes saving the life of a newborn calf on New Year's Eve and watching, mouth agape, as their livestock trailer was swept away by floodwater in March.

Son Sidney braves the wrath of Linda and husband Clive crafts an unusual Valentine's Day gift. Eldest daughter Raven leaves the nest, headed for university, while young sheepdog Taff and Tony the pony arrive at the farm. As Covid-19 sends the country into lockdown, Amanda feels more lucky than ever to live close to nature, finding happiness in the beauty of the Dales and the unchanging routines of the farming year.

Illustrated with charming line-drawings throughout, this book is the perfect gift for fans of the Owen family and a chance to catch up on their adventures.