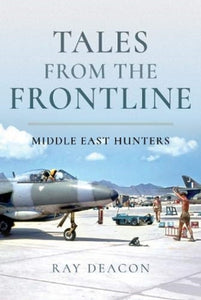 New Hardback
Having passed-out from Boy Entrant training in December 1959, Ray spent the following two years servicing Vampire trainers at the Central Flying School (CFS), RAF Little Rissington. In April 1962, Ray left Little Rissington and joined thirty fellow airmen for a voyage out to Aden aboard HMT Nevassa on her last sailing as a troopship. Posted to 8 Squadron at RAF Khormaksar, he spent the next two years living and working in the torrid heat of this desert outpost.

It had its compensations, however, the opportunity not only to experience life on a busy front-line operational squadron while working on ground attack and fighter reconnaissance versions of the Hawker Hunter, but to savour the delights of a trip in Sydney Camm's most versatile aircraft topping his list. In addition to defending the skies above Aden and its Protectorates, Middle East Command expended a large proportion of its energy supporting army activities in the mountains of the Aden hinterland; dropping supplies, transporting personnel between posts, and in the case of the Hunter squadrons, attacking dissident targets and patrolling the border with Yemen. It was against this background that Ray wrote his first book on RAF Middle East Command operations, Hunters over Arabia (published by Pen & Sword Books Ltd in 2018).

Concentrating on the activities of the Command's strike force, it is based on official records produced at the time and since held at the National Archives in Kew. Tales from the front line: Middle East Hunters is a fully illustrated companion volume that comprises anecdotes, stories and experiences of life on the Hunter squadrons as told by the pilots and airmen who flew and maintained the Hunter during its twelve-year tenure in Arabia.