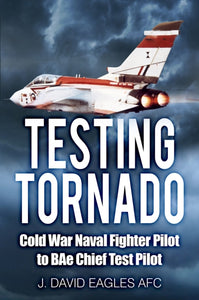 New Paperback
It was early Cold War days when 17-year-old David Eagles applied to the Fleet Air Arm hoping to be a fighter pilot for his national service. He little imagined the career that would follow. After flying training with the US Navy and Australian Fleet Air Arm, he settled into Fleet Air Arm fighter pilot life.

He progressed through Naval Test Pilot duties - where he was forced to eject from a Buccaneer during catapult launch trials - before joining British Aerospace and playing a major part in the cockpit design and flight-testing of the RAF's first fly-by-wire and swing-wing aircraft, the Panavia Tornado. His other experiences include ditching a Firefly into the sea and the near loss of the first British Tornado prototype after a bird strike. Finally, after 6,000 flying hours in sixty different types of aircraft, Eagles finished his career by making the first flight of the EAP, the technology demonstrator for the new Eurofighter Typhoon.

Vividly illustrated with photographs, documents and plans, this is a fascinating memoir of naval-flying and test-flying some of the world's most iconic fighters.