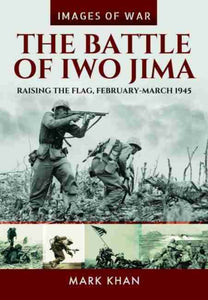 New Paperback
Just eight square miles in size, the Japanese island of Iwo Jima lies some 750 miles due south of Tokyo. Following a preparatory air and naval bombardment which lasted for many weeks, it was there, on the morning of Monday, 19 February 1945, that US Marines launched Operation Detachment, their aim being the capture of the entire island and the three airfields that had been constructed on it. The Japanese defenders, however, were prepared.

The enemy garrison had heavily fortified Iwo Jima with a network of bunkers, caves and dugouts, hidden artillery positions and more than ten miles of underground tunnels that proved difficult to locate and destroy. The following thirty-six days saw some of the bloodiest fighting of the Pacific Campaign, resulting in more than 26,000 American casualties, including 6,800 dead. Of the 21,000 Japanese soldiers on Iwo Jima at the beginning of the assault, only 216 were taken prisoner during the battle.

The capture of Iwo Jima, revealed here through a remarkable collection of archive images, was declared complete on the morning of 26 March 1945. The battle also resulted in one of the most iconic images to emerge from the Second World War-the raising of the American flag on the summit of Mount Suribachi.