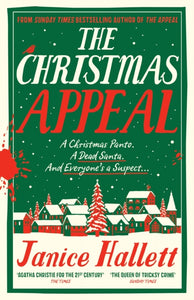 New Hardback
One dead Santa. A town full of suspects. Will you discover the truth?Christmas in Lower Lockwood, and the Fairway Players are busy rehearsing their festive pantomime, Jack and the Beanstalk, to raise money for the church roof appeal.

But despite the season, goodwill is distinctly lacking amongst the amateur dramatics enthusiasts. Sarah-Jane is fending off threats to her new position as Chair, the fibreglass beanstalk might be full of asbestos, and a someone is intent on ruining the panto even before the curtain goes up. Of course there's also the matter of the dead body.

Who could possibly have had the victim on their naughty list? Join lawyers Femi and Charlotte as they read the round robins, examine the emails and pore over the police transcripts. Will the show go on?