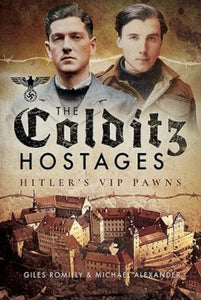 New Hardback
Giles Romilly and Michael Alexander were amongst a select group of prisoners of war who were segregated from the other prisoners and were labelled the Prominente. The authors recount their varied experiences in captivity. Romilly, a journalist covering the Norway Campaign, was captured at Narvik in April 1940\.

Alexander was taken in August 1942 when engaged in a raid behind the German lines in North Africa. In due course, because of their family connections to people of influence, both of them ended up in an isolation area of Colditz Castle, where they were joined by several more, including Earl Haig, the son of the C-in-C of the BEF, the commander of the Polish Army in the Warsaw Uprising and, the last to arrive, the son of the US Ambassador to London. In April 1945, in the face of the advancing American armies and on Himmler's instructions, the Prominente were removed from the Castle.

In due course they became split up. Romilly managed to escape soon after the removal from Colditz with the assistance of a Dutch officer. The remainder survived to be liberated, despite Hitler's order for them to be executed.

The book is beautifully written. Romilly, in particular, shows himself to be an excellent observer: of the character of his fellow prisoners both before and during his time as a Prominente; and of the last, chaotic days of the Third Reich. His description of the scenes he witnessed in the newly liberated Dachau Camp, soon after his arrival in the allied lines, remain extraordinarily powerful.

The book received a warm reception from the critics at the time of its first publication in 1954 and was singled out for high praise by, amongst others, Airey Neave MP, assassinated by the INLA in 1979, himself a prisoner and the first successful British escaper from Colditz.