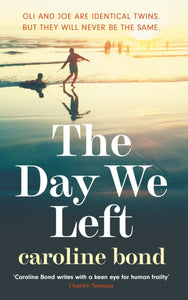 New Paperback
Oli and Joe are identical twins. But they will never be the same. Lizzie Truman gives birth to her sons at thirty-one weeks.

From the start, the differences between the twins are clear. Oli is bigger, stronger, healthier. Joe is small and much less robust, his future inexorably altered by the trauma of his premature delivery.

As soon as the boys are well enough, Lizzie checks out of the maternity hospital and leaves her old life behind. By the time Oli and Joe are grown, Beth has a new name, a thriving business, and she has successfully raised her sons alone. But when the truth about their past emerges, the twins are forced to reassess everything they thought they knew about their mother, their upbringing and themselves.