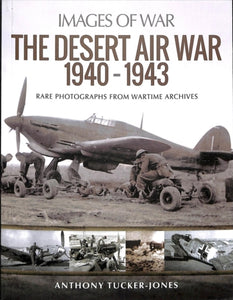 New Paperback
The war in air over North Africa and the Mediterranean during the Second World War has long been overshadowed by the battle on the ground. Between 1940 and 1943 Italy's Regia Aeronautica and then Germany's Luftwaffe waged a concerted aerial campaign against the British, yet apart from the bitter fight for Malta, this aspect of the conflict is rarely given the attention it deserves. Anthony Tucker-Jones, in this vivid photographic history, provides a fascinating introduction to it.

The wartime photographs, and the concise text, cover the entire course of the struggle in the air. The Regia Aeronautica at first met weak British opposition when Mussolini launched his ill-advised offensive against British-controlled Egypt, but the obsolete Italian aircraft proved to be no match for the Allied fighters once the strength of the Royal Air Force built up. Then, when Hitler stepped in to help his hapless ally, the aerial struggle intensified, and the air forces of both sides were locked in deadly combat in the skies over Egypt, Libya, the Mediterranean and Tunisia.

The wide range of Italian, British, German and American aircraft involved, the air and ground crews from all sides, and the conditions in which they operated and fought are all shown in this varied selection of photographs.