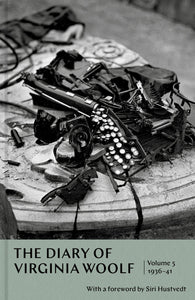 New Hardback
With an introduction by Siri Hustvedt
Friday 30 October 1936. I do not wish, for reasons I cannot now develop, to analyse that extraordinary summer. It will be more helpful & healthy for me to write scenes; to take up my pen & describe actual events: good practice too for my stumbling & doubting pen.

Can I still 'write'? That is the question, you see. And now I will try to prove if the gift is dead, or dormant. The concluding volume of Virginia Woolf's diary covers the last five years of her life, ending four days before she committed suicide at the age of 59.

These final years were overshadowed by the untimely death of her nephew Julian Bell in the Spanish Civil War, and her own intermittent mental fragility. As another World War began to seem inevitable, writing itself often felt like a battle. Nevertheless, this period saw the publication of her novel The Years, the polemical essay Three Guineas, the biography of her friend Roger Fry, and the writing of Between the Acts.

This volume stands as a monument to Woolf's life and the enduring friendships of the Bloomsbury group. This Granta edition of Volume 5 contains the unexpurgated text for the first time.