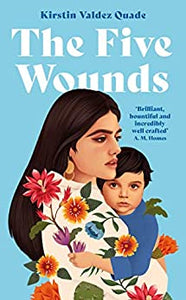 New Hardback Fiction with Signed Bookplate
It's Holy Week in the town of Las Penas, New Mexico, and thirty-three-year-old unemployed Amadeo Padilla is to play Jesus in the Good Friday procession. He is preparing feverishly for this role when his fifteen-year-old daughter Angel shows up pregnant on his doorstep.

Vivid, darkly funny, and beautifully rendered, The Five Wounds spans the baby's first year as five generations of the Padilla family converge: Amadeo's mother, Yolanda, reeling from a recent discovery; Angel's mother, whom Angel isn't speaking to; and Tio Tive, keeper of the family's history. In the absorbing, realist tradition of Elizabeth Strout and Jonathan Franzen, Kirstin Valdez Quade brings to life the struggles of her characters to parent children they may not be equipped to save.