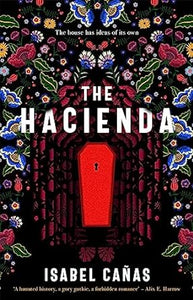 New Paperback
Hacienda San Isidro was meant to be Beatriz's haven, her salvation from an oppressive life with her uncle and his vicious wife. When Don Rodolfo Solorzano proposed, Beatriz dreamed only of the security his estate in the countryside would provide, ignoring the rumors surrounding his first wife's demise and his sinister allegiances. She will have her own home again, no matter the price.

But the house has ideas of its own. Visions and voices claw at Beatriz, stealing her sleep, and the weight of invisible eyes follows her every move. Deep in her bones, Beatriz knows-something is wrong with San Isidro.

Desperate for help, she turns to the young priest, Padre Andres. Handsome and sympathetic, he seems like Beatriz's only hope. But as their passions rise and the walls close in around Beatriz, the weight of secrets everyone is carrying may lead them all to their doom.