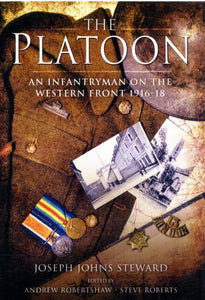 New Hardback
Joseph Johns Steward fought in the Great War, from the Battle of the Somme to the final offensives of 1918, and he was an acute, unflinching observer of the conflict he took part in - of life and death on the Western Front. He was a writer, too. He recorded his experiences in accurate detail and later in life he wrote a graphic semifictionalized account of his wartime career, his comrades and his platoon.

His narrative is published here for the first time, edited, annotated and with an introduction by Andrew Robertshaw and Steve Roberts. Their research into Steward's story is a fascinating example of how such work can be used to give a vivid insight into the experiences of a Great War ancestor. For Steward provides an in-depth soldier's eyeview of combat and of the routines of life, and survival, in the front line. He concentrates on his immediate experiences and on those of his platoon, the small, close-knit team of men who together confronted the reality of fighting during key battles on the Western Front.

His recollections leave us with a strong impression of the contrasting personalities of his comrades in arms, with whom he shared the extraordinary ordeal of war. The Platoon demonstrates, as only a first-hand account can, what the war was like at the lowest level, for the ordinary private soldier for whom grand strategy and major events are distant concerns and for whom rations, letters, leave - and comradeship - are critical.