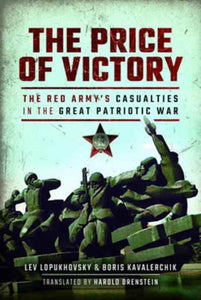 New Hardback
The Red Army's casualties during the Second World War and the casualties sustained by the German army they fought are a key element in any assessment of the conflict on the Eastern Front. Since the war ended over seventy years ago, the statistics have been a source of bitter controversy, of claim and counter-claim, as each generation of historians has struggled to uncover the truth. This contentious issue is the subject of this absorbing book.

The figures reveal much about the way the war was fought, and they demonstrate the enormous human price the Soviet Union paid for its victory. That is why the statistics have been so strongly contested. Distortion and falsification by official historians have obscured the facts because the issue has been so heavily politicized.

Using recently declassified information from the Russian archives, the authors focus in forensic detail on the way the figures were recorded and compiled and seek to explain why, so many years after the war, the full truth about the subject is still far from our reach.