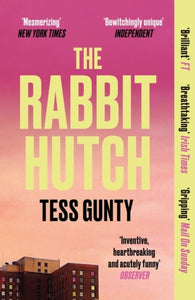 New Paperback with Signed Bookplate
Vacca Vale, Indiana: recently voted number 1 on Newsweek's list of dying American cities. According to the developers, however, it's a city with a whole history of reinvention, one that 'buzzes with the American spirit.'Not everyone agrees though - certainly not the residents of the Rabbit Hutch, a low-cost housing complex in the once bustling industrial centre, populated by a cast of unforgettable, disenfranchised characters. There's an online obituary writer, a woman waging a solo campaign against rodents and, most notably, eighteen-year-old Blandine, recently released from foster care and determined to stop the developers whatever the cost.

Set over one sweltering week in July, The Rabbit Hutch is a savagely beautiful and bitingly funny snapshot of contemporary America. Bold, experimental and brilliantly written, it will live in the memory long after the final page.