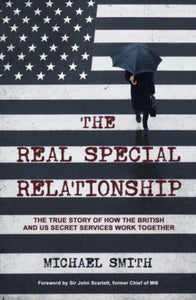 New Paperback
The Special Relationship between America and Britain is feted by politicians on both sides of the Atlantic when it suits their purpose and just as frequently dismissed as a myth, not least by the media, which announces its supposed death on a regular basis. Yet the simple truth is that the two countries are bound together more closely than either is to any other ally. In The Real Special Relationship, Michael Smith reveals how it all began, when a top-secret visit by four American codebreakers to Bletchley Park in February 1941 - ten months before the US entered the Second World War - marked the start of a close collaboration between the two nations that endures to this day.

Once the war was over, and the Cold War began, both sides recognised that the way they had worked together to decode German and Japanese ciphers could now be used to counter the Soviet threat. Despite occasional political conflict and public disputes between the two nations, such as during the Suez crisis, behind the scenes intelligence sharing continued uninterrupted, right up to the recent Russian invasion of Ukraine. Smith, the bestselling author of Station X and having himself served in British military intelligence, brings together a fascinating range of characters, from Winston Churchill and Ian Fleming to Kim Philby and Edward Snowden, who have helped shape the security of our two nations.

Supported by in-depth interviews and an excellent range of personal contacts, he takes the reader into the mysterious workings of MI6, the CIA and all those who work to keep us safe.