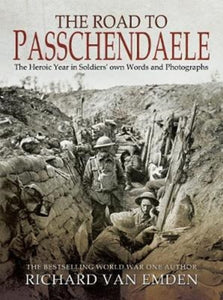 New Paperback
Passchendaele is the next volume in the highly-regarded series of books from the best-selling First World War historian Richard van Emden. Once again, using the winning formula of diaries and memoirs, and above all original photographs taken on illegally-held cameras by the soldiers themselves, Richard tells the story of 1917, of life both in and out of the line culminating in perhaps the most dreaded battle of them all, the Battle of Passchendaele. His pervious book, The Somme, has now sold nearly 20,000 copies in hardback and softback, proving that the public appetite is undiminished for new, original stories illustrated with over 150 rarely or never-before-seen battlefield images.

The author has an outstanding collection of over 5,000 privately-taken and overwhelmingly unpublished photographs, revealing the war as it was seen by the men involved, an existence that was sometimes exhilarating, too often terrifying, and occasionally even fun. Richard van Emden interviewed 270 veterans of the Great War, has written extensively about the soldiers' lives, and has worked on many television documentaries, always concentrating on the human aspects of war, its challenge and its cost to the millions of men involved. This book will be published in June 2017, in time for the 100th anniversary of the epic Battle of Passchendaele which began on 31st July 1917 Richard van Emden s books sold over 650,000 books and have appeared in The Times bestseller chart on a number of occasions.

He lives in West London and regularly appears on television, mostly recently as BBC1's historian for the national commemorations of the Somme Battle. He has appeared on over forty television documentaries and has written nineteen books on the First World War.