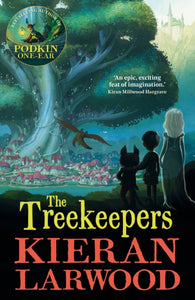 New Paperback
An epic tale of trees of power and a world under threat, from the author of the bestselling Five Realms series. Here come the roots of the Shadow Tree. Whatever they touch will never get free.

Liska lives in Arborven, a city surrounding an extraordinary tree that gives all those living there special powers. As a shapeshifter, Liska is training as a warrior. When she discovers that the Tree is under threat, it is her duty to act - but she can't convince anyone to listen to her.

So with Lug, whose power over earthworms is dismissed as useless, and a ghost-girl, Elowen, she goes on an epic journey to defeat the worst threat their world has ever known. Illustrated by Chris Wormell this is a richly woven and thrilling fantasy with a wonderful affinity between humankind and nature - a current and vital message for young readers everywhere.