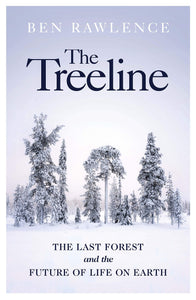 New Hardback
The Arctic treeline is the frontline of climate change, where the trees have been creeping towards the pole for fifty years already. These vast swathes of forests, which encircle the north of the globe in an almost unbroken green ring, comprise the world's second largest biome.

Scientists are only just beginning to understand the astonishing significance of these northern forests for all life on Earth. Six tree species - Scots pine, birch, larch, spruce, poplar and rowan - form the central protagonists of Ben Rawlence's story. In Scotland, northern Scandinavia, Siberia, Alaska, Canada and Greenland, he discovers what these trees and the people who live and work alongside them have to tell us about the past, present and future of our planet.

At the treeline, Rawlence witnesses the accelerating impact of climate change and the devastating legacies of colonialism and capitalism. But he also finds reasons for hope. Humans are creatures of the forest; we have always evolved with trees.

The Treeline asks us where our co-evolution might take us next. Deeply researched and beautifully written, The Treeline is a spellbinding blend of nature, travel and science writing, underpinned by an urgent environmental message.