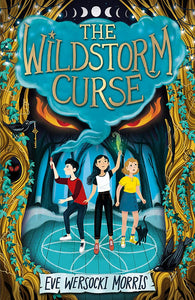 New paperback
A fabled witch. A powerful curse. A monster out for revenge.

13-year-old Kallie Tamm can't wait to spend a week of her summer holidays at the Wildstorm Theatre Camp: she's determined not to let her dyslexia hold her back from achieving her dream of becoming a playwright. The finale of the whole week is a performance in the local village theatre. But as soon as she arrives, Kallie discovers that the cast will be performing a play written by a 17th Century witch, Ellsabet Graveheart, and strange, scary things start happening.

Unbeknown to Kallie, a dark shadow is stirring in the woodland near Wildstorm: an ancient and dangerous creature has awoken from a centuries old slumber, and they're out for revenge, putting Kallie and all of her new friends in grave danger. The Wildstorm Curse is a thrillingly suspenseful story about unlikely heroes and the power of storytelling, from author of The Bird Singers, Eve Wersocki Morris.