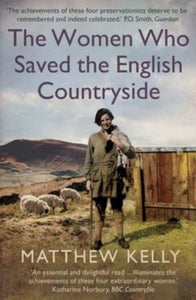 New Paperback
A vibrant history of English landscape preservation over the last 150 years, told through the lives of four remarkable women In Britain today, a mosaic of regulations protects the natural environment and guarantees public access to green spaces. But this was not always so. Over the last 150 years, activists have campaigned tirelessly for the right to roam through the countryside and the vital importance of preserving Britain's natural beauty.

Matthew Kelly traces the history of landscape preservation through the lives of four remarkable women: Octavia Hill, Beatrix Potter, Pauline Dower, and Sylvia Sayer. From the commons of London to the Lake District, Northumberland, and Dartmoor, these women protected the English landscape at a crucial period through a mixture of environmental activism, networking, and sheer determination. They grappled with the challenges that urbanization and industrial modernity posed to human well-being as well as the natural environment.

By tirelessly seeking to reconcile the needs of particular places to the broader public interest they helped reimagine the purpose of the English countryside for the democratic age.