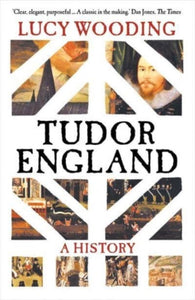 New Paperback
A compelling, authoritative account of the brilliant, conflicted, visionary world of Tudor England When Henry VII landed in a secluded bay in a far corner of Wales, it seemed inconceivable that this outsider could ever be king of England. Yet he and his descendants became some of England's most unforgettable rulers, and gave their name to an age. The story of the Tudor monarchs is as astounding as it was unexpected, but it was not the only one unfolding between 1485 and 1603.

In cities, towns, and villages, families and communities lived their lives through times of great upheaval. In this comprehensive new history, Lucy Wooding lets their voices speak, exploring not just how monarchs ruled but also how men and women thought, wrote, lived, and died. We see a monarchy under strain, religion in crisis, a population contending with war, rebellion, plague, and poverty.

Remarkable in its range and depth, Tudor England explores the many tensions of these turbulent years and presents a markedly different picture from the one we thought we knew.