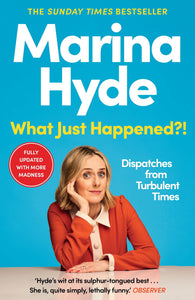 New Paperback
Now includes ELEVEN new columns and a whole THREE new prime ministers. Relive the delusional fever-dream of the modern era.
Drawn from her spectacularly funny Guardian columns, What Just Happened?! is a welcome blast of humour and sanity in a world where reality has become stranger than fiction.

Join Hyde as she revisits every moment of magic, from David Cameron to Theresa May to Boris Johnson to Rishi Sunak. Did we miss anyone? Boggle at the cast of characters: Hollywood sex offenders, populists, sporting heroes (and villains), media barons, reality TV monsters, police officers, wicked advisers, philanthropists, fauxlanthropists, frostbitten princes and (naturally) Gwyneth Paltrow. It's the full state banquet of crazy - and you're most cordially invited.