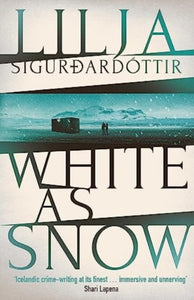 New Paperback
Daniel and Arora hunt a brutal killer when a shipping container with the bodies of five women is found outside Reykjavik, as Arora continues the search for her missing sister. Book three in the addictive, chilling An Arora Investigation series.  On a snowy winter morning, an abandoned shipping container is discovered near Reykjavik. Inside are the bodies of five young women - one of them barely alive. As Icelandic Police detective Daniel struggles to investigate the most brutal crime of his career, Arora looks into the background of a suspicious man, who turns out to be engaged to Daniel's former wife, and the connections don't stop there...

Daniel and Arora's cases pit them both against ruthless criminals with horrifying agendas, while Arora persists with her search for her missing sister, Isafold, whose devastating disappearance continues to haunt her. As the temperature drops and the 24-hour darkness and freezing snow hamper their efforts, their investigations become increasingly dangerous ... for everyone.

Atmospheric, twisty and breathtakingly tense, White as Snow is the third instalment in the riveting, award-winning An Arora Investigation series, as crimes committed far beyond Iceland's shores come home...