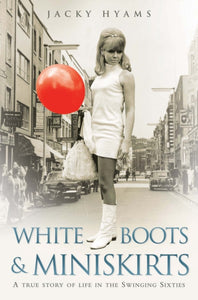 New Paperback
The place is London, and the year is 1966. It's a time when anything seems possible, especially if you are a young, free-spirited, mini-skirted girl in search of adventure and independence. An incredible explosion of pop music, fashion and youth culture has turned London into the most 'swinging' city on earth.

Youthful energy and boundless optimism are everywhere. Whatever tou want - sexual freedom, jobs, fashionable clothes, social change - it's all up for grabs. It's a world of souped-up Minis, ad men, conmen, typewriters, bed-hopping, tragic love affairs, flat sharing, spies from behind the Iron Curtain and Fleet Street's smoky, scruffy pub life.

At the centre of this vibrant world is Jacky Hyams, a headstrong, pleasure-seeking party girl with a tough East End background, who is determined to throw off her past and make the most of everything on offer. In the follow up to her bestselling memoir Bombsites and Lollipops, Jacky takes a nostalgia-tinged look back to the years when Britain changed forever, a decade moving swiftly from the revolutionary fervour and excitement of the freewheeling Swinging Sixties, to the bleaker times of the strike bound, cash-strapped Seventies.