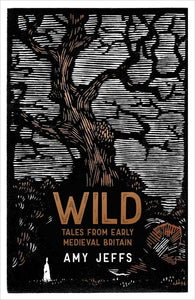 New Hardback 
By the bestselling author of Storyland. Sheer cliffs, salt spray, explosive sea spume, thunderous clouds, icy waves, whales with mountains on their backs, sleet, bitter winds, bleak, impenetrable marshes, howling wolves, forests, the unceasing cries of birds and the death grip of subterranean vaults that have never seen the sun: these are wild landscapes of a world almost familiar. In Wild, Amy Jeffs journeys - on foot and through medieval texts - from landscapes of desolation to hope, offering the reader an insight into a world at once distant and profoundly close to home.

The seven chapters, entitled Earth, Ocean, Forest, Beast, Fen, Catastrophe, Paradise, open with fiction and close with reflection. They blend reflections of travels through fen, forest and cave, with retelling of medieval texts that offer rich depictions of the natural world. From the Old English elegies to the englynion and immrama of the Celtic world - stories that largely represent figures whose voices are not generally heard in the corpus of medieval literature: women, outcasts, animals.

Illustrated with original wood engravings, evoking an atmospheric world of whales, wolves, caves, cuckoos and reeds, Wild: Tales From Early Medieval Britain will leave readers feeling 'westendream': delight in the wilderness.