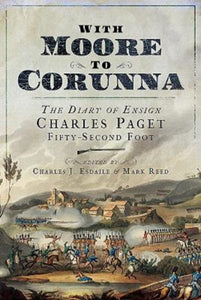 New Hardback
Ensign Charles Paget's previously unpublished diary of the Peninsular War is an important discovery for two reasons. The regiment in which he served - the 52nd Foot - was one of the three most famous in the Duke of Wellington's army, yet it is covered sparsely in the spate of memoirs, diaries and collections of correspondence generated by the conflict. It is also the only genuine diary covering the Battle of Vimeiro and the campaign of Sir John Moore.

The complete text of Paget's diary is reproduced here, edited and with detailed notes and an extended introduction by Charles Esdaile, one of the most distinguished historians of the period. In order to give the reader contrasting views of episodes which Paget records, he has brought in first-hand accounts written by other Peninsular veterans, featuring the battle of Vimeiro and the action at Cacabelos. The result is a valuable addition to the literature devoted to the British participation in the Peninsular War.

It gives a fresh insight into events in the campaigns, the conditions in Portugal and Spain, and the experience of the soldiers who fought there.