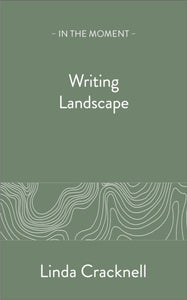 New Paperback
Inhabiting a landscape, walking a landscape, writing a place and time
For Linda Cracknell, exposure to wind, rock, mist, and salt water is integral to her writing process. She follows Susan Sontag's advice to "Love words, agonise over sentences, and pay attention to the world," observing and writing her landscapes from the particulars of each moment. In this varied essay collection, Linda backpacks on a small island that is connected to the mainland only at low tide.

In winter snow, she hikes the wooded hillside close to her home, a place she is intimately familiar with in all seasons. And she retraces over three days the steps of a trek made by her parents seven decades earlier. She explores her inspirations, in nature and from other artists and their work, and she offers thoughtful writing prompts.

Reading this collection will take you to new places, open your eyes to the world, and suggest ways to take note and make notes as you go-to inspire your own attentive looking, journaling, and writing practice.