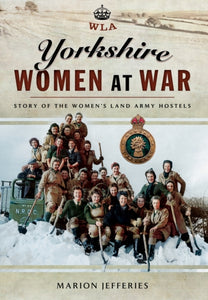 New Hardback
In Yorkshire, 2015 marks the centenary of the founding of the first Land Girl Hostel, near Boroughbridge, by Lady Margery Lawson Tancred. Yorkshire Women at War deals with the Women's Land Army Hostel policy during the First World War and it is the first exhaustive account to examine hostel life in the austerity of war and post-war Yorkshire between 1939-50. Marion Jefferies's account of over fifty Women's Land Army hostels is filled with quirky stories about the hectic lives of tired, noisy and hungry girls.

There are tales of how the girls slept, ate and socialized in shared dormitories. It records how one old farmhouse had only a single oil lamp, which lit the dormitory; how candles were stuck to the bunk beds and the girls were forced to complain about wax spilling on to their clothes and bedding; and how, at Stockton, bats flew freely in the the girls' dormitories. Some wardens were domineering, neglectful, spiteful and inefficient.

One warden was bitter towards her charges and even boxed a girl's ears. However, several other wardens were homely, kind and a real friend to the young girls, and they were remembered with great affection. Included in the book are Miss Jacob Smith's inspection reports of hostel life, which illustrate the real trials, worries and happiness of the girls, some only 16 or 17 years old and away from home for the first time.

This is a serious, well-researched history of the Women's Land Army Hostels in Yorkshire and thanks to the excellent memories and joviality of many veterans contacted by the author, it has been illumined by numerous light-hearted moments of what was to them 'the great adventure of their lives'.